BTC has staged a remarkable recovery at the start of February, rising in price by nearly $10,000 since the beginning of the month.
The latest gains have taken the cryptocurrency back above $44,000 and appears to have reversed a trend that saw BTC drop from an all-time high of close to $69,000 in November, to a six-month low below $34,000 in late January.
The bounce back coincides with a new report from crypto market data firm FS Insight, which predicted bitcoin will reach $200,000 in the second half of 2022.
The same research note suggested Ethereum (ETH) could hit $12,000 this year – roughly quadruple its current price.
Those less bullish about bitcoin's future trajectory include prominent stockbroker Peter Schiff, who suggested that the latest price rally "may well be another orchestrated pump-and-dump" to coincide with an advertising campaign during the Super Bowl on 13 February.
You can follow all the latest bitcoin news, analysis and expert crypto predictions right here.
BTC price predictions from Peter Schiff
In response to Peter Schiff's pump and dump claims, popular crypto market commentator TechDev has put together a chart correlating market movements to Schiff's public bitcoin comments.
2013 – "Thinking of buying bitcoin instead of precious metals? Think again!"
2018: "Don't make the mistake of thinking that buying BTC below $3,800 is a bargain just because the current price is better than 80 per cent below its record high. Bitcoin's price could easily drop another 80 per cent from here, and at $750 it would still be expensive!"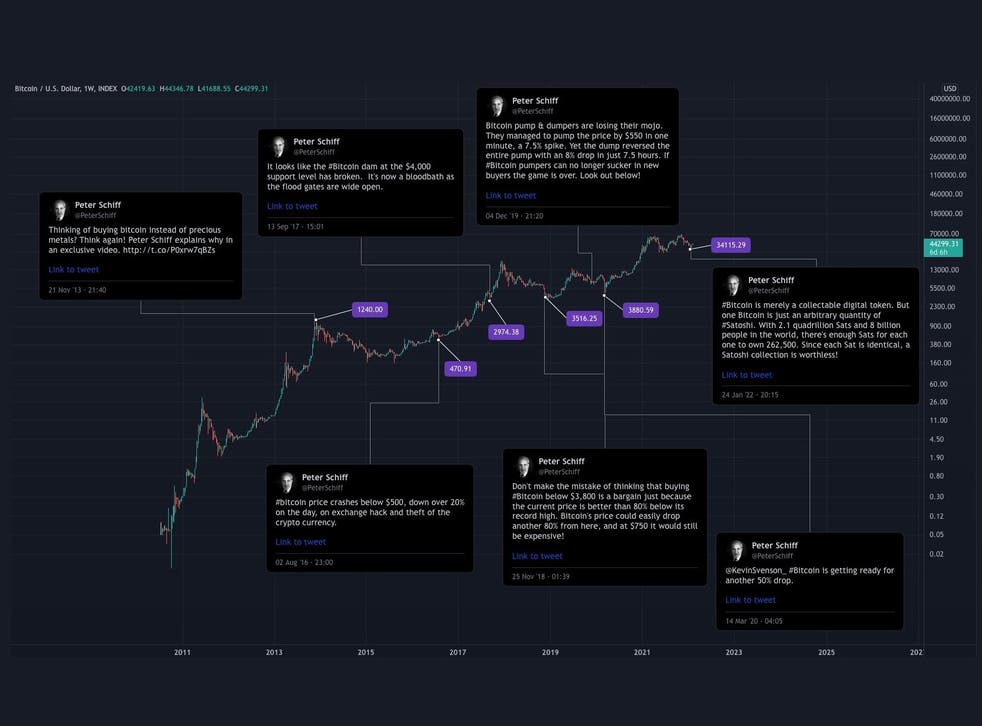 BTC price rally is 'Super Bowl pump and dump'
The latest bitcoin price rally is a "pump and dump" orchestrated to coincide with a crypto advertising campaign blitz for the NFL Super Bowl this weekend, according to prominent stock broker and bitcoin skeptic Peter Schiff.
"The question is will the pump last all the way to the #SuperBowl, or will some of the pumpers jump ship and dump early to front run the crowd?" he asked on Twitter.
It's not the first time Schiff has poured cold water on positive BTC price movements, as some of his Twitter followers noted.
"You're my favourite countertrading indicator, Peter," one noted last year. "Thank you for your service."
BTC price 'heading to $200k in 2022'
A new report from crypto market data firm FInsight has included some of the most bullish price projections seen since the record-breaking market rally of 2021.
In a note titled 'Digital Assets in a Post-Cycle World', research analysts predicted that bitcoin could reach $200,000 in the second half of 2022, while Ethereum could be headed for $12,000.
The positive forecast is supported by "legacy market capital entering the fold", according to the researchers, who say this has seen BTC become increasingly correlated with traditional technology stocks.
BTC, ether prices continue to surge
Crypto has hit a four-week high, surging by about 4 per cent in the last day, and by about 14 per cent compared to its price last week.
The leading cryptocurrency is currently valued at over $44,000 – its highest since mid-January.
Ethereum has also grown by about 4 per cent in the last 24 hours, surging to a three-week high of $3,150.
Meanwhile, cardano has surged by over 6 per cent, solana by more than 2 per cent, and polkadot by nearly 4 per cent in the last 24 hours.
Memecoins dogecoin and shiba inu continue their price surge since last week. Dogecoin is up by about 3 per cent in the last day while its spinoff shiba inu continues to skyrocket, growing by over 10 per cent in the last 24 hours.
The chart is all green with continued signs of growth of the overall market, which is up by about 5 per cent in the last day, valued at about $2.02 trillion.
Ted Cruz bought the BTC dip
US Senator Ted Cruz bought bitcoin worth between $15,001 and $50,000 on Jan 25, according to a Periodic Transaction Report filed on Friday
The cryptocurrency was valued close to about $37,000 at the time the purchase was made, and has since grown to over $42,000 – a growth of over 10 per cent in the period.
The Texas Senator has been a vocal proponent of crypto
"I'm also particularly proud that my home state, Texas, is becoming an oasis for the blockchain community, for BTC miners, for innovators and entrepreneurs in the crypto world," he had said in November last year.
North Korea using crypto cyberattacks to fund nukes, missile programmes
A new UN expert panel report says North Korea is using cyberattacks on cryptocurrency assets as a key source of funding for its growing nuclear and ballistic missile programmes.
The report, submitted to the UN Security Council North Korea sanctions committee on Friday, says cyberattacks, "particularly on cryptocurrency assets", played a major role in financing its missile programmes.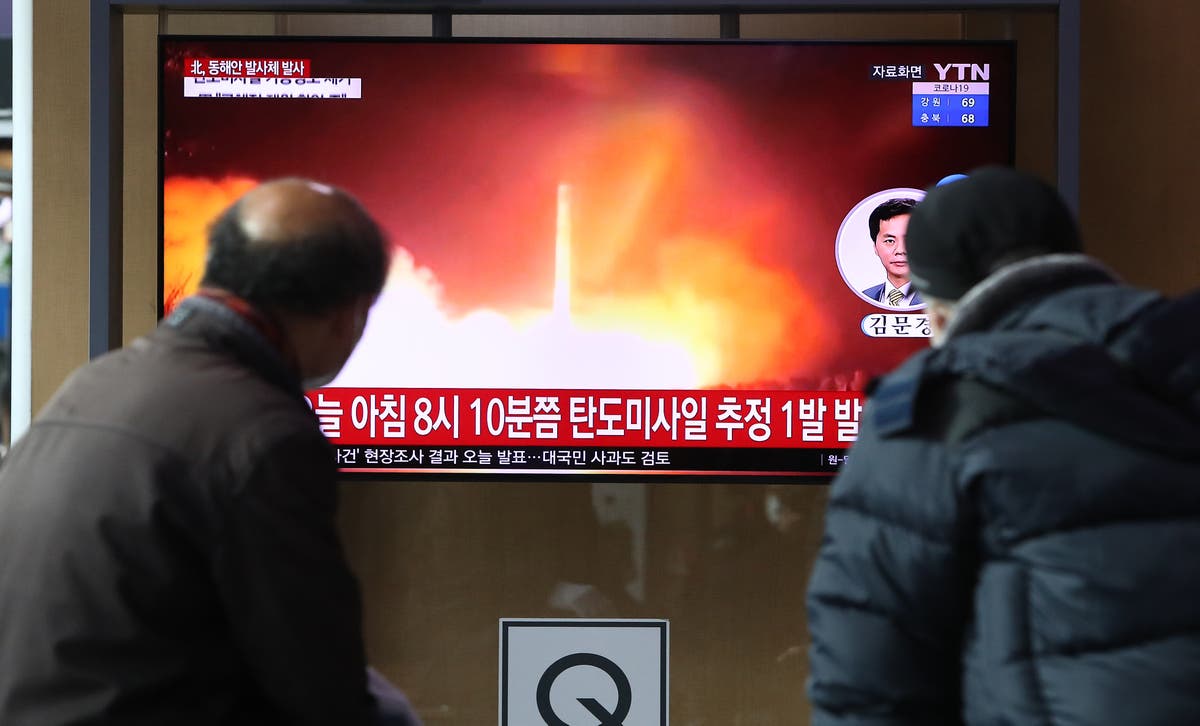 North Korean hackers stole about £300m in cryptocurrency in 2021
Russia plans to finalise BTC regulations within a week
Russia should be ready with new regulatory plans for the country's crypto market within a week, according to a local news report.
There are currently two opposing views within the Russian government that may determine the fate of cryptocurrencies in the country.
Russia's Central Bank proposes a blanket ban on crypto-related activities, including issuance, exchange, and mining, while the finance ministry pushes for legalization under strict rules, without recognizing bitcoin as a means of payment.
Officials estimate that own more than 16.5 trillion rubles ($214 billion) worth of cryptocurrencies – one reason the government may see more value in regulating the sector than imposing an outright ban.
Memcoins see dramatic price rise
Dogecoin and shiba inu have skyrocketed over the weekend with the latter growing in value by over 30 per cent in the last week.
Shiba Inu's shib tokens have grown from about $0.000021 on Sunday to $0.000028 – a surge of about 30 per cent, as doge jumped from $0.0147 to about $0.0157 during this period, growing by about 7 per cent.
The memecoins seem to be stabilising with a sell-off during the early hours on Monday, but continue be in the green on the charts.
Shib's surge has come days after developers announced a tie-up with Welly's, a fast-food chain selling burgers and fries.
Developers said this partnership comes with a rebranding of Welly's stores to include Shiba Inu-themed products as well as the issuance of NFTs for customers.
They said shib would also be a method of payment in the stores for members of the community.
BTC and dogecoin surge, while ether and solana slip
Bitcoin's price has surged above $42,000, after trading close to the $40,000 mark during the weekend.
The leading cryptocurrency has grown by about 2 per cent in the last day and by over 14 per cent over the last 7 days.
Ethereum has slipped by about 1 per cent in the last two hours after reaching a value of about $3,050, and is showing signs of stabilizing.
Other top cryptocurrencies, including solana and polkadot have slipped in value in the last few hours, but their prices remain nearly unchanged compared to their values a day earlier.
Meanwhile, memecoins dogecoin and its spinoff shiba inu have surged in the last 24 hours. Dogecoin is up by over 7 per cent in the last day while shiba inu has surged by over 25 per cent.
The overall crypto market has grown by over 1 per cent in the last day and is currently valued at $1.93 trillion.
BTC, ether prices stabilise
After dropping below the $38,000 mark on Thursday, BTC has stabilised around $37,300 on Friday, rising in value by over a per cent in the last 24 hours.
Ethereum has remained nearly unchanged compared to its value a day earlier, and has grown by over 12 per cent in the last week.
Cardano and solana have surged by about 3 per cent in the last 24 hours, while meme coins doge coin and its spinoff shiba inu have nearly the same prices as they did a day earlier.
The overall BTC market has grown by over 1 per cent in the last 24 hours, and is currently valued at $1.72 trillion.